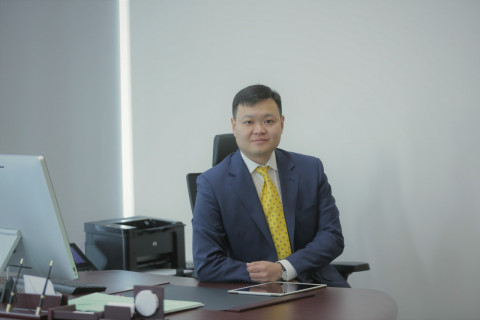 Son Vyacheslav Vladimirovich
General Counsel
Vyacheslav Son was appointed as the Managing Director of "Baiterek National Managing Holding" JSC in January 2017. He supervises legal support issues, including the Holding's legislative activities. Based on the decision of the Sole Shareholder, he was elected as a member of the Board of Directors of the "Investment Fund of Kazakhstan" JSC, "Baiterek Development" JSC, "QazTech Ventures" JSC, which are a part of "Baiterek" Holding's structure.
V. Son started his career in 2002 as a legal officer in the Securities Legal Support Department of the Legal Department at the "Development Bank of Kazakhstan" JSC (a subsidiary of "Baiterek" NMH JSC, DBK JSC). During 2004 to 2009, he was holding various positions: the chief legal officer, the head of the Legal Support Office, Acting Deputy Director, Director of the Legal Department at DBK JSC, having worked as the Head of the Legal Department at "DBK-Leasing" JSC (a subsidiary of DBK JSC) in the period from 2005 to 2006.
During the period of 2009 to 2012, he was engaged as the Managing Director of "Tau-Ken Samruk" National Mining Company" JSC, where he was supervising administrative and legal activities, as well as investment projects development issues.
During 2012 to 2013, he was the Chief of Staff, Deputy General Director at "Kazspetsexport" RSE of the Ministry of Defense of the Republic of Kazakhstan.
He graduated from the Kazakh University of Humanities and Law, Moscow Modern University for the Humanities and the University of International Business under MBA program.