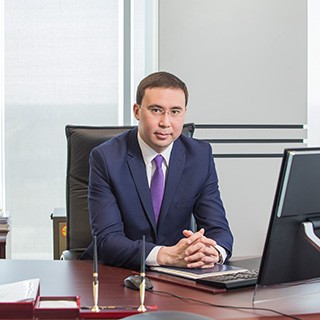 Khamitov Yersain Yerbulatovich
Chief Financial Officer, Member of the Board
Yersain Khamitov was appointed as the Chief Financial Officer at "Baiterek" National Managing Holding JSC in 2014. In February 2016, he became a member of the Holding's Management Board based on the decision of the Holding's Board of Directors. Y. Khamitov coordinates issues of economy, accounting and reporting, and treasury. He has 14 years of experience in banking and corporate governance.
During 2009-2014, he was holding positions of the Chief Manager of the Department for Investment Management at Samruk Energo JSC, Chief Manager of the Corporate Finance Department at "Samruk-Kazyna" National Welfare Fund" JSC, and Director of the Corporate Finance Department at "Baiterek" NMH JSC.
Since 2004 to 2009, Y. Khamitov was employed as the Head of the Credit Analysis Section at Halyk Bank of Kazakhstan JSC (Kostanai Branch), Chief Analyst of the Credit Analysis Department at Halyk Bank of Kazakhstan JSC, and the Deputy Head of the Corporate Business Department at BTA Bank JSC.
Graduated from Kostanay State University named after A. Baitursynov and the Faculty of Economics of Moscow State University under the MBA program.