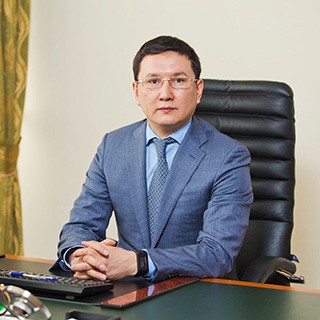 Aidar Arifkhanov
Chairman of the Management Board
As a graduate and alumni of the Kazakh State Management Academy, The Ministry of Foreign Affairs' Diplomatic Academy and Columbia University, through the Bolashak Presidential Program.
With more than 20 years of experience working in Public Service Institutions and Corporate Governance. 
Mr. Arifkhanov's professional trajectory has led him along a variety of positions in many different National Institutions. In the years from 1997 to 2004, his career started at the Committee Department for Foreign Loans serving as the Chief Specialist of the Social Loans' Program. Afterwards he was promoted to Head of the Department of Social Loans' Program and the Department of State Guarantees' Management and Foreign Loan Realization, from where he later became Head of the Department for Government Loans and State Guarantees' Management. Mr. Arifkhanov held the position of Deputy Director of the State Debt and Credit Department at the Ministry of Finance. 
From 2004 to 2017 he was made Deputy Minister of Finance, then he became Head of the Prime Minister's Administrative Office of the Republic of Kazakhstan, Vice Minister of Labor and Social Protection of the Population, Adviser to the Prime Minister of the Republic of Kazakhstan, Deputy Chairman of the Agency of the Republic of Kazakhstan for Informational Support and Communications, Kazakhtelecom JSC Managing Director, Management Board Deputy Chairman, NAC Kazatomprom JSC Management Board's Acting Chairman, National Economics Vice Minister and Deputy Chairman of the Management Board of NMH Baiterek JSC.
In 2017, he became the chief commander of NMH Baiterek JSC.
in December 2017 - Chairman of the National Managing Holding Baiterek JSC.
By the order of the Minister for Investments and Development of the Republic of Kazakhstan Z. Kasymbek dated January 10, 2018 No 11 "On the membership of the Council of "National Managing Holding "Baiterek" JSC was elected as a member of the Board of Directors of "National Managing Holding "Baiterek" JSC.