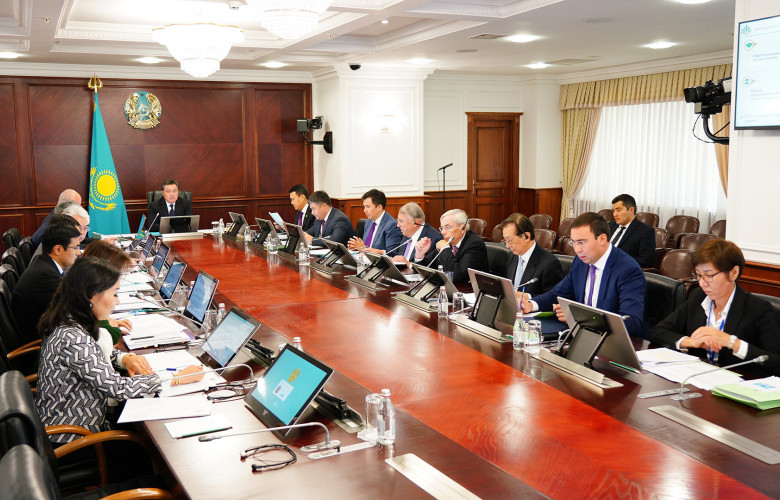 The issue of fulfilling the requirements of the Holding's investment policy has been considered at the meeting of the Board of Directors of "Baiterek" National Managing Holding" JSC chaired by the Prime Minister of the Republic of Kazakhstan Askar Mamin, as informed by the Press Service of the Prime Minister of the Republic of Kazakhstan.
In 2018, subsidiary organizations of "Baiterek" NMH" JSC supported enterprises of non-resource-based sectors of the economy totaling 715.2 billion tenge. Compared to the previous year, the volume of financial support has increased by 14% (89 billion tenge).
In order to develop the private sector of the economy, 3 590 companies and organizations that are not related to quasi-public sector entities or legal entities affiliated with them were supported in the amount of 541 billion tenge.
Due to the measures for export-oriented production support, the exports volume of enterprises in 2018 exceeded 750 billion tenge, which is 5.1% (36.8 billion tenge) more than in the previous year.
In 2018, "Baiterek" NMH" JSC provided 18 grants totaling 4.7 billion tenge to the entities involved in industrial and innovative activities. If compared, 9 agreements on the provision of innovations-related grants totaling 1.7 billion tenge were signed in 2017.
Last year, the Holding provided financial support to business incubators in the form of co-financing of their expenses, as well as carried out works to promote innovational activities.
In the course of the meeting, the Risk Report of "Baiterek" NMH" JSC for the second quarter of 2019, as well as Overall Employees Performance Report within the Holding's Internal Audit Service in the first and second quarters of 2019 were approved.