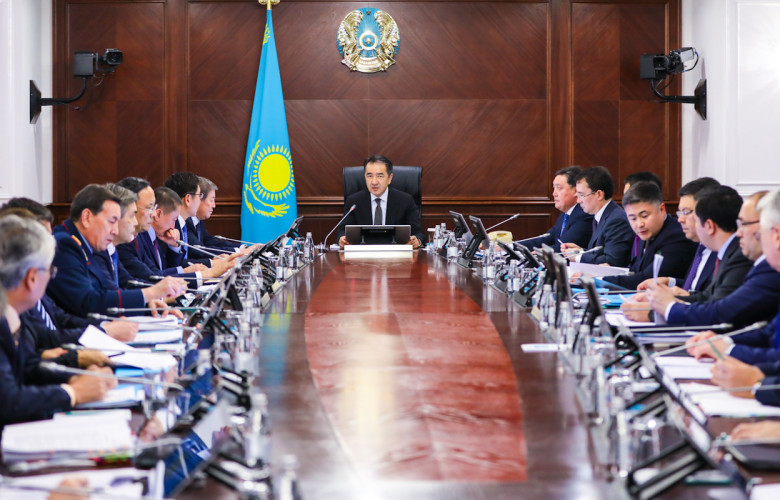 At the meeting of the Government of the Republic of Kazakhstan chaired by the Prime Minister Bakytzhan Sagintayev, the implementation of the Nurly Zher State Housing Program for nine months 2018 was reviewed. Minister on investments Zhenis Kasymbek and Chairman of the Management Board of "Baiterek" Holding Aidar Arifkhanov made reports.
According to the Ministry for Investments and Development, in the republic under the Nurly Zher program for the first nine months 2018, 8.8 million m² of housing was commissioned, which is 11.6% more than the same level in 2017. More than 77 thousand families improved their living conditions, of which about 9.5 thousand families purchased housing built with public funds. Totally it is planned to commission 12,1 million m² of housing this year.
Investments in housing construction increased by 31.5% compared to the same period 2017 and amounted to 818.9 billion tenge. For 1 tenge of public investment 8 tenge of private investment was spent. The largest volumes of housing commissioning are observed in the cities of Astana, Almaty and Mangistau region.
In turn the Chairman of Baiterek National Management Holding JSC Aidar Arifkhanov reported that, in the line of Baiterek Development JSC, a subsidiary of the Holding, out of 113 billion tenge allocated in 2016 contracts have been concluded for 95.6 billion tenge, 94.9 billion tenge or 99.2% have been executed. In 2018, with a plan of 34 thousand m², 24.9 thousand m² or 73% were built. Additionally, by the end of 2018, 9.9 thousand m² will be commissioned.
Housing Construction Savings Bank a subsidiary of the Holding stimulates the demand and implementation of built housing for its investors. With the annual plan of issuance of 270 billion tenge, the population issued 30 thousand soft loans worth 274 billion tenge. At present, 1.2 million contracts with the amount of savings of 568 billion tenge are in the bank system.
- "To further stimulate housing construction savings, the online banking system and the Internet portal of real estate baspana.kz are actively developing, which brought together all investors, developers and government agencies on its platform. Now, Kazakhstanis receive online consultation on the services of the Nurly Zher program, information on finished and under construction objects, cost per square meter and bank products. Today, 11 thousand apartments have been sold through the portal to the population at fixed prices of 80 billion tenge" - A. Arifkhanov said.