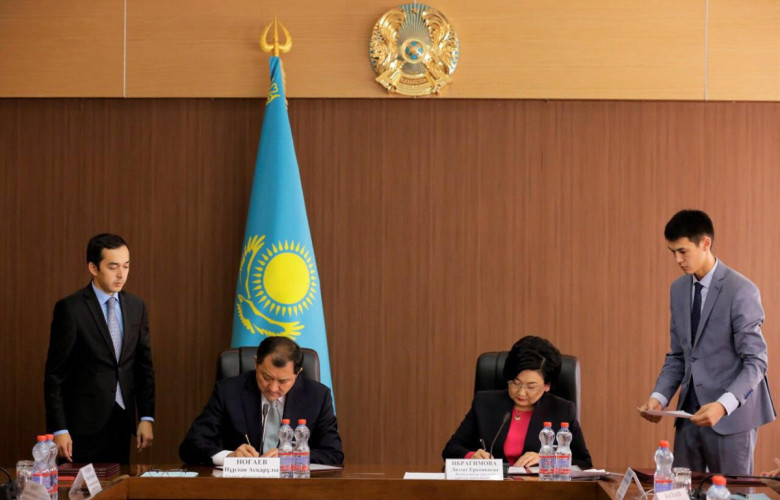 The subsidiary of "Baiterek" Holding – Zhilstroysberbank will help to provide housing for 300 healthcare professionals in Atyrau region. The relevant memorandum on cooperation was signed by the chairman of the Management Board of Zhilstroysberbank Lyazzat Ibragimova, Akim of Atyrau region Nurlan Nogayev and the head of "Atyrau" SEC Marat Tusupkaliyev.
New housing for physicians and nurses will cost 180000 KZT for 1 sq. m. So, they can buy one-room apartment for 7.9 million KZT, and two-room apartment - for 9.9 million KZT. Housing for healthcare professionals will be sold within the framework of "My home" program of Zhilstroysberbank.
Lists of applicants for this housing will be executed by Akimat of Atyrau region. It will also provide development land, utility systems and site improvement. The socio-entrepreneurial corporation "Atyrau" will help to build the dwelling houses. This agreement involves the construction of four facilities for 297 apartments, which will be commissioned in 2019.
In addition, a number of memorandums to provide housing for residents of Atyrau region were signed.
- "Thanks to the initiative and support of the Akimat of Atyrau region, we immediately signed four cooperation agreements. This will allow 2000 residents of the region to buy own homes at reduced prices. The total area of ​​the sold housing will be 172.6 thousand square meters. It is important that young families, physicians and nurses, as well as people from accommodation and land plot waiting list in the Akimat will get the roof over their heads. We know how difficult it is for them to save up money to buy own homes. Therefore, we are ready to support them and help to buy apartments on the most affordable terms" - said Lyazzat Ibragimova, the head of Zhilstroysberbank.
The second memorandum concerns the implementation of "Zhas Otau" housing program, which operates only in the Atyrau region. According to the agreement signed between ZSSBK, Akimat of the region and "Atyrau-Zhas Otau" LLP, a house for 100 apartments will be built in "Nursaya" neighborhood unit. Housing will be available for young families whose age of spouses does not exceed 29 years.
Two more memorandums concern the implementation of "Nurly zher" program. 21 dwelling houses are being constructed in "Nursaya" (8 houses) and "Bereke" (13 houses) neighborhood units under one of its areas - "Construction of credit housing through the system of housing savings". Totally 1512 apartments will be commissioned.
80 cottages are being constructed in Talgayran housing estate, with a total area 64-191 sq. m under one more field of "Nurly zher" program – "Development of individual housing construction".