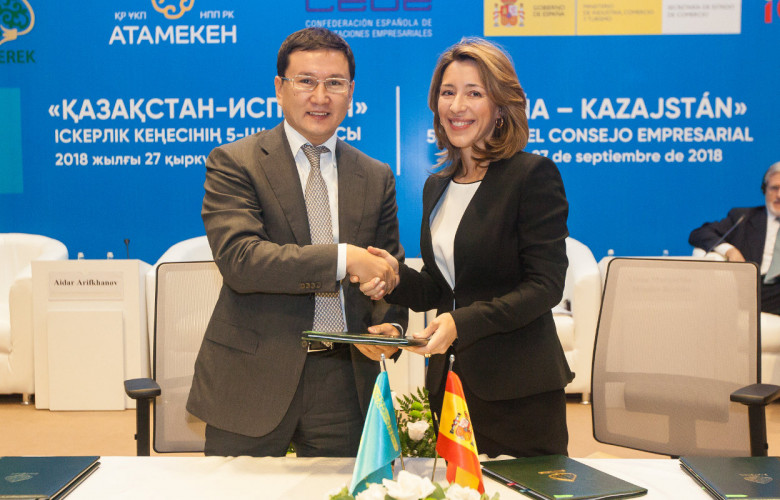 5th meeting of the Business Council "Kazakhstan-Spain" was held in Astana on September 27, 2018, the purpose of which was to intensify cooperation in the field of entrepreneurship, as well as to attract Spanish investments in the domestic economy.
The event was attended by the representatives of the Ministries of National Economy and Agriculture of the Republic of Kazakhstan, "NMH "Baiterek" JSC, "Samruk-Kazyna" Fund, "Kazakh Invest" JSC, National Chamber of Entrepreneurs "Atameken", Nazarbayev University, International Finance Center "Astana", heads of state commercial organizations and the largest companies of the two countries.
During the meeting, the Council members shared their experience and views on the opportunities for doing business in Kazakhstan. At the same time, a special attention was focused on the policy of Kazakhstan, aimed at improvement of business support financial instruments, protection of investments and ensuring of equal conditions for domestic and foreign companies.
During the meeting, co-chairman of the Business Council of the Republic of Kazakhstan, Chairman of the Management Board of "NMH "Baiterek" JSC Aidar Arifkhanov noted that over 40 leading Spanish and 60 Kazakh companies took part in the negotiations within the framework of the Business Council "Kazakhstan-Spain".
- We focus our partners' attention on the measures that Kazakhstan takes to create a comfortable investment environment and implement joint projects. Priority areas for us are machine engineering and technology transfer, transport and infrastructure, energy and environment, agriculture and food industry, - said Aidar Arifkhanov.
In turn, the co-chairman of the Kazakh-Spanish Intergovernmental Commission, Secretary of State for Trade of Spain Ksiana Mendes confirmed the high interest of Spanish business in Kazakhstan projects.
- There are many Spanish companies in the Kazakhstan market that have been successfully operating for a long time. Our task is to attract new companies to Kazakhstan and strengthen our commercial cooperation. It is also important to create joint ventures and implement joint projects, especially those related to public-private partnerships - said K. Mendes.
During the Business Council "Baiterek" Holding signed two memorandums. The first is with the State Secretariat for Trade of the Kingdom of Spain, aimed at potential cooperation in the field of support, implementation and co-investment of industrial and infrastructure projects. The second memorandum is with the Spanish development financing company COFIDES, aimed at cooperation in export operations in infrastructure, telecommunications, tourism, the agri-food industry and "green energy".
Also within the framework of the forum "Kazakhstan Project Preparation Fund" LLP (a subsidiary of "Baiterek" Holding) and "E-Zhasyl" LLP signed a Memorandum of Understanding aimed at cooperation with the Spanish party in construction of garbage recycling plant in Kazakhstan. It is assumed that nine facilities will be built costing about 150 million euros.