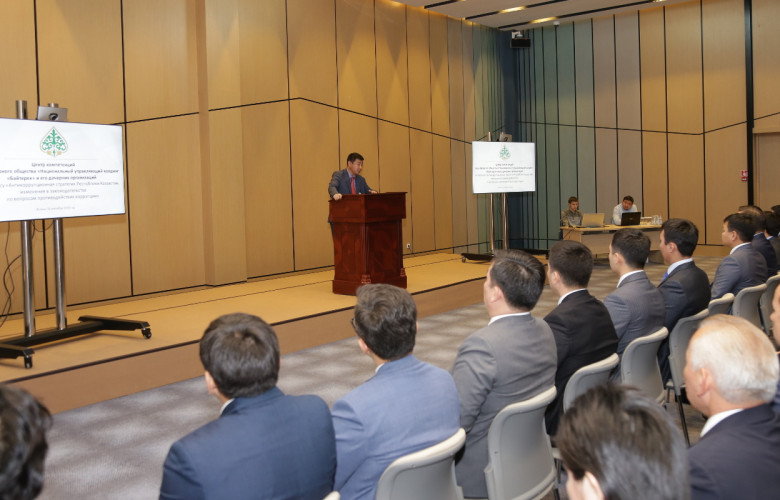 "National Managing Holding "Baiterek" JSC together with the Agency of the Republic of Kazakhstan on Civil Service Cases and anti-corruption management arranged a joint meeting in the framework of the scheduled meeting of the Competence Center of the Holding in Astana. The main subject of discussion was anti-corruption measures taken by the Holding.
The event was attended by Aidar Arifkhanov, Chairman of the Management Board of "NMH "Baiterek" JSC, the management staff of the Holding and its subsidiaries, representatives of ACSCaACM.
Ravil Arystanbekov, Head of the Compliance Service of "Baiterek" Holding, noted in his speech that today the Holding takes all necessary measures for anti-corruption management, as envisaged both by the legislation of the Republic of Kazakhstan and in accordance with international experience. New internal regulatory documents of the Holding have been adopted to prevent corruption. Corruption prevention trainings are conducted on a regular basis in the framework of the formation of an anti-corruption culture. All proposals to eliminate the circumstances violating the legislation, set out in the application of the National Anti-Corruption Management Bureau of ACSCaACM were implemented.
Following the results of the meeting, the parties gave a positive assessment of the Holding activity in ensuring of transparency and prevention of corruption offenses.
The competence center is a regular event held by "Baiterek" Holding in order to inform, provide advanced training and increase performance efficiency of the employees of the group of companies.