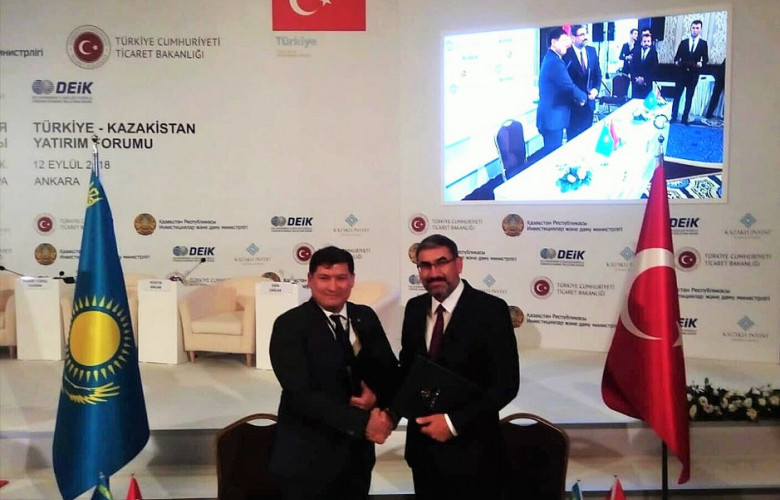 Chairman of the Management Board of "Entrepreneurship Development Fund "Damu" JSC (a subsidiary of "NMH "Baiterek" JSC) Abai Sarkulov and the President of the Organization for the Development and Support of Small and Medium Enterprises KOSGEB Sevakhir Uzkurt in Ankara, within the framework of the Kazakhstan-Turkey Investment Forum signed the Roadmap for Cooperation between Kazakhstan and Turkey in the field of development and support of business entities.
Abai Sarkulov noted in his speech, that this Roadmap will create conditions for entrepreneurs of Kazakhstan and Turkey to participate in various state and regional projects of the counterpart country.
- We are also talking about attraction of Turkish entrepreneurs to the development of industrial and special economic areas of Kazakhstan. In addition, KOSGEB is ready in the near future to send a group of entrepreneurs to Kazakhstan in order to establish contacts and discuss specific projects with counterpartners and cover all expenses related to their visit. In its turn, "Damu" Fund is ready to ensure the participation of Kazakh entrepreneurs in these negotiations - said A. Sarkulov.
In turn, the Turkish party confirmed its intentions to intensify cooperation in the field of experience exchange and support of export potential.
- "Damu" Fund and KOSGEB have been partners since 2011, and the Roadmap is a new stage in the development of bilateral cooperation. Important areas of this activity will be the implementation of joint training programs for businessmen, holding of conferences, business forums - all that will contribute to improving the trade and economic potential of our countries - emphasized S. Uzkurt.