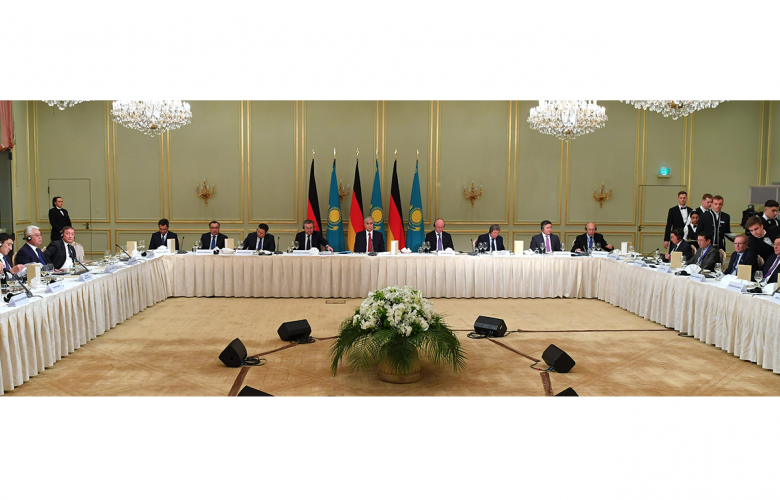 Aidar Arifkhanov, the Chairman of the Board of Baiterek Holding, has visited Berlin as a part of the Kazakhstani delegation within the official visit of the President of the Republic of Kazakhstan, Qassym-Zhomart Toqayev, to Germany.
Aidar Arifkhanov has taken part in the meeting of the Head of State with the top managers of German companies, as well as in the 28th Meeting of Berlin Eurasian Club on the topic of "Kazakhstan and Germany: A New Stage of Economic Cooperation".
It should be recalled that Baiterek Holding has signed a framework agreement with Euler Hermes insurance agency in June this year. It will enable opening a limit of 1 billion euros to cover future export loans from German financial institutions in favor of Kazakhstani entrepreneurs.
In order to fulfill this agreement, a series of documents have been signed by the Holding's subsidiary, the Development Bank of Kazakhstan (DBK), with the major German financial institutions during the current visit.
These were an agreement and memoranda with the German banks such as Deutsche Bank, KfW IPEX-Bank and Commerzbank. It is worth noting that DBK agreed with Deutsche Bank to attract financing with insurance coverage of export credit agencies (ECA) for projects worth 500 million euros.
In addition, a memorandum of understanding was signed with Euler Hermes Aktiengesellschaft German credit agency. The parties are intending to encourage and facilitate the implementation of transactions in the field of export financing.
Moreover, Baiterek Holding's subsidiary, Kazakhstan Project Preparation Fund LLP, is planning to sign a memorandum of understanding with WestGasOil PTE Singaporean company and Haldor Topsoe Germany chemicals company for the construction of a new methanol and olefin production plant in Mangystau Oblast. The enterprise will be located in the territory of "Aktau Sea Port" SEZ, and the amount of investments will constitute about 1.8 billion US dollars.
Photos have been provided by the Press Service of Akorda
Reference:
"Baiterek" National Managing Holding" JSC was established in accordance with the Decree of the President of the Republic of Kazakhstan dated May 22, 2013. The key institution of the Government of the Republic of Kazakhstan that complies with the advanced standards of corporate governance and ensures the implementation of the objectives for the sustainable development of the economy of Kazakhstan through its diversification, support for innovation, export development, increase in labor productivity. The Holding includes: Development Bank of Kazakhstan JSC, Investment Fund of Kazakhstan JSC, Zhilstroisberbank of Kazakhstan (HCSBK) JSC, Kazakhstan Mortgage Company MO JSC, KazakhExport EIC JSC, Damu EDF JSC, QazTech Ventures JSC, Housing Construction Guarantee Fund JSC, Kazyna Capital Management JSC, Baiterek Development JSC, Kazakhstan Project Preparation Fund LLP.